Enhanced range of motion
Range of motion is the distance between far right and far left or far up to far down. The Vthumb acts as a 2MM bumper at each end of the range of motion, easing the abrupt stop. As the player get more into the game the Vthumb creates a virtual feel between the thumb and the joystick.
Expand effective size
In spite of having little hands, too small to effectively operate the large controllers, little children still want to play. The Vthumb is effectively a 2mm grippe cover that enables little handles to better operate both the trigger and joystick simultaneously. Attaching the extender to the end of the Vthumb also adds an additional ¾" to the length of the thumb.
Personality
There are an endless variety of colors, patterns and design choices to define style. Get a celebrity signature like Tony Hawk, sew on some beads, draw your own pictures or get one of the growing numbers of deluxe designs available.
Comfort

Aside from the spongy comfort of the Vthumb material, the Vthumb only covers your thumb. A glove covering your entire hand and portions of your 4 fingers can be hot and constricting. Wearing a Vthumb only covers the thumb is also hot, but only for your thumb and can be put on and off quickly and easily to ease the heat buildup.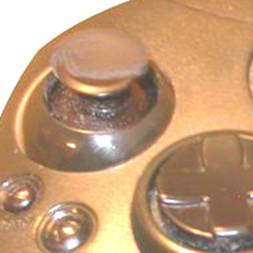 A joystick with worn rubber revealing the
hard edged plastic underneath.
All controllers have a rubber coating on the thumb sticks for comfort. With use, the rubber wears off and reveals the hard plastic edge underneath. This causes soreness after just a few minutes of play.
A new controller is upwards of $20 and replacement rubber coating is around $6 but have mixed results. The cost of the Vthumb is far less costly than a new controller that otherwise functions as new.
The Vthumb will provide protection when using your worn controller or a friends worn controller
Aged Equipment
If you wear the rubber off of your controller, a Vthumb is far less expensive than a new controller
Over Pressure
Some players have a tendency to push too hard on the joystick, trying to turn sharper or climb/run faster. The Vthumb helps by padding the thumb
Protective Barrier
The obvious benefit is the protective 2mm barrier. Having a Vthumb on hand for that 1 game that you just can't put down will keep you from having to quit or endure pain that last for hours or days.